How Does Teeth Whitening Work?
To achieve beautiful white teeth, teeth whitening Parramatta is the safest, affordable and non invasive option to attain this result. Teeth whitening Parramatta uses a whitening gel that contains active hydrogen peroxide ingredient to bleach the enamel, the outer surface of the teeth. Once the whitening gel is applied onto the teeth a reaction from the whitening agent will occur. The oxygen molecule from the whitening gel will start to break down the bond between the discoloured molecules from the teeth. This reaction ultimately results in the process of achieving brighter and whiter teeth.
Which Stains Work Well With Teeth Whitening?
Teeth whitening in Sydney works well on extrinsic stains which are stains that occur on the surface of the teeth. Intrinsic stains that appear on the micro cracks of the enamel and in the dentin, the layer underneath the enamel has a lower possibility. Hence it is always recommended to get a consultation with a dentist to see if your teeth are suitable for teeth whitening. There are also two types of teeth whitening available at Parramatta Dentistry, in-chair and take-home. The dentist will be able to discuss which option is best suited for you.
In-Chair Teeth Whitening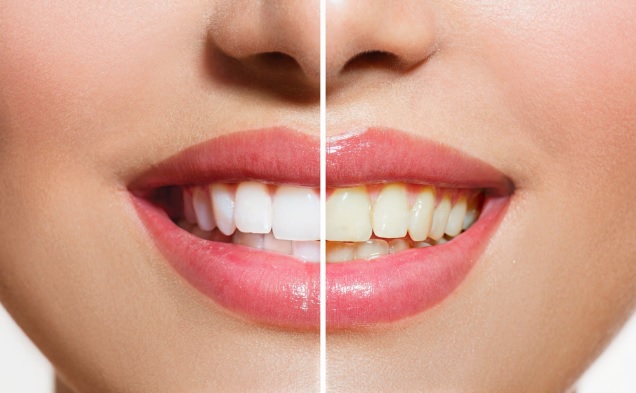 For instant result, in-chair whitening is the best teeth whitening in Sydney for immediate whiter and brighter teeth. The appointment for in-chair teeth whitening will take up to 60 minutes. The dental clinician will apply a barrier on your gums, this is to protect the whitening agent from burning the soft tissues. After applying the barrier, they will proceed with the whitening gel and blue light to active the whitening process.
Teeth Whitening at Parramatta Dentistry
At Parramatta Dentistry we decide to use SDI Polaoffice+ instead of other system such as Zoom teeth whitening or laser teeth whitening as it has proven to be long lasting, effective and affordable. Allowing us to provide the best in-chair teeth whitening treatment at a low cost of $449. If you have private health insurance you can also check if they can provide you with any rebate with the item number 118 x 12.
Take Home Teeth Whitening
For people who like to whiten their teeth in the comfort of their own home and they have more sensitive teeth, take home whitening is the best option for you. The whitening agent for take home whitening is less concentrated and is perfect for patients who have hypersensitive teeth that would like to self monitor their whitening progress at home. At Parramatta Dentistry the dentist will issue you a custom made whitening trays with safety instructions on techniques and methods to apply it on yourself. For take home whitening the patient must be diligent and wear the whitening trays for at least 30 minutes each day for over the period of 2 weeks to see results. Our patients also take advantage of our in-chair and take home teeth whitening package to help maintain and maximise the whole teeth whitening procedure. To check if you are eligible for any rebate from your private health insurance the item number for take home teeth whitening is 119 x 2 and 927 x 1.