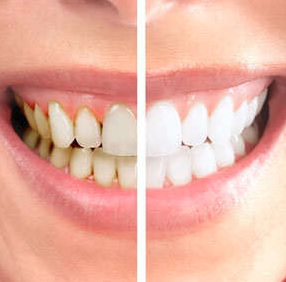 Laser teeth whitening is always done exclusively in a dental clinic and it is the most costly method for teeth whitening.
The procedure involves the application of a strong bleaching agent, a hydrogen peroxide gel that has a 25 to 40 per cent concentration levels applied on each tooth, heat from the laser intensifies its effectiveness as it speeds up the process.
But with this high concentration levels, certain precautions such as cheek retractors, rubber dams to cover up the gums, desensitising paste and fluoride must be taken to lessen tooth sensitivity as well as to protect the lips, gums and other oral tissues from damage and harm.
But, is laser teeth whitening dangerous? Is laser teeth whitening safe for your teeth? It has been proven time and time again that it rarely causes serious complications.
However, certain laser teeth whitening side-effects that are often mild and short lasting have been noticed after the procedure. The most common after-effects of the treatment are teeth sensitivity and gum irritation which usually passes within a day or two.
Pregnant women are also prohibited from undergoing the teeth whitening Sydney treatment because whitening agents being used in the procedure haven't been tested on pregnant women as of yet. Its effects on the unborn baby are still uncertain and inconclusive.
Scary as it may seem, laser teeth whitening also has its benefits and advantages, which are:
Effective (due to the laser, it can penetrate deep, even deeper than the enamel to remove stains at their core)
Fast (7 to 8 shades difference in just one 30 to 60 minutes session)
Less Damaging (no appliances or additional equipment are used that can cause bleeding or irritation of the gums)
Longer Lasting (it removes old stains as well as stains you've accumulated since your last cleaning).
Yes, laser teeth whitening cost in Parramatta can be expensive but the effectiveness and the end results make it a rewarding investment that can remarkably improve your teeth's health and appearance.
Consult with your dentist today because laser teeth whitening in Parramatta is offered, so book an appointment. Remember, when you smile, the whole world smiles with you.