Being one of the many dental surgeries in Sydney, at Parramatta Dentistry we pride ourselves as one of the best cosmetic dentist Sydney. Our Parramatta cosmetic dentistry services range from simple teeth whitening procedure to extensive dental veneer treatment. At Parramatta Dentistry our aim is to improve one's confidence by giving them the best smile possible. There are different options on improving one's smile, either if it's repairing one chipped tooth or having a smile makeover. Our experience and professional dentists will do their best to cater to all your needs. Below are some cosmetic dental services we provide to help achieve a whiter, straighter and confident smile.
Teeth whitening is a simple and non-invasive treatment to achieve whiter and brighter teeth. There are two types of teeth whitening methods, take home whitening and in-chair whitening. Take home whitening can be done in the comfort of your own home over the period of 2 weeks. While in-chair whitening is done in one visit with immediate reason.
To achieve straight teeth without being noticed. Invisalign is a clear braces system using clean aligners to straighten your teeth. Unlike traditional metal braces, it is partially invisible and is perfect for individuals who want to straighten their teeth discreetly.
Dental veneers are a thin shell layer that goes on top of the front surfaces of the teeth. The veneers are made to change the size, shape and shade of the patient's teeth resulting in a complete smile makeover. There are two different types of veneers, composite veneer and porcelain veneer. Both styles of veneers are able to cover imperfections of the teeth such as discolouration, odd tooth structure, gappy or crooked teeth. Due to these reasons they are considered to be more extensive and expensive compared to other cosmetic dental services.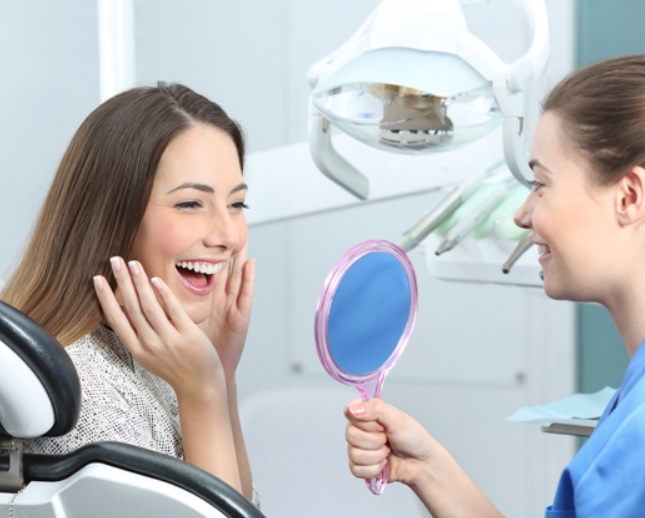 Dental crowns are a cap that covers the whole tooth. In a way it acts as a helmet for the tooth where major treatment such as tooth huge restoration or root canal treatment is required. Colour matching and staining one tooth requires a keen eye in detail. Our cosmetic dentists at Parramatta Dentistry are meticulous in their work to achieve the perfect tooth anatomy and the shade.
Dental Bridge
Dental Bridge fills in the empty space of a missing tooth and uses a joint system of multiple crowns. The two outer edges of the bridge are like crowns that can cap onto the tooth, while the middle part that is flushed is called the pontic. You can have 1 or 2 pontics depending on how many teeth you're missing and how healthy the neighbouring teeth are to support the bridge. Like crowns, dental bridges also need to look unified in a patient's mouth and require a fine eye to detail.
Contouring and Reshaping
Contouring and reshaping are another simple cosmetic dental procedure available in cosmetic dentistry Parramatta to fix minor tooth structures such as chipped, crooked or irregular shaped teeth. This treatment is usually performed to correct the length, size, shape or position of the tooth, where sometimes it can also help correct bite issues.
To discuss and see which cosmetic dental services are required to help achieve your best smile, please contact our cosmetic dentist office at Parramatta Dentistry where our professional and experienced dentist is able to give you all your options.