What are Porcelain Veneers?
Porcelain veneers are wafer thin ceramic shelled material that is fitted on the front surface of the teeth. They are designed to improve the overall aesthetic of a person's smile by fixing crooked, gappy, discoloured or chipped teeth. Porcelain veneer material is strong and durable with high resistance to fracture and stains. Due to these reasons with a longer lifespan compared to composite veneers, porcelain veneers Sydney are highly desired amongst patients. They do require more preparation work on the tooth surface, but can achieve a whiter and brighter that composite veneer is unable to.
Types of Material For Porcelain Veneers
At Parramatta Dentistry we use four main types of dental ceramic material for porcelain veneers. They are Feldspathic ceramic which is the conventional porcelain veneer material. Lava Ultimate, a resin-nano ceramic. Emax which is our most popular veneer ceramic with the best track record and Zirconia that is best for covering up the dark underlying tooth. All four porcelain veneer materials at Parramatta have their own unique qualities and properties where it serves its purpose according to the individual's concerns. It is ideal to get a consultation appointment with one of our experienced dentists at Parramatta Dentistry to help discuss what material is suitable for your case.
How Long Will It Take To Install Porcelain Veneers?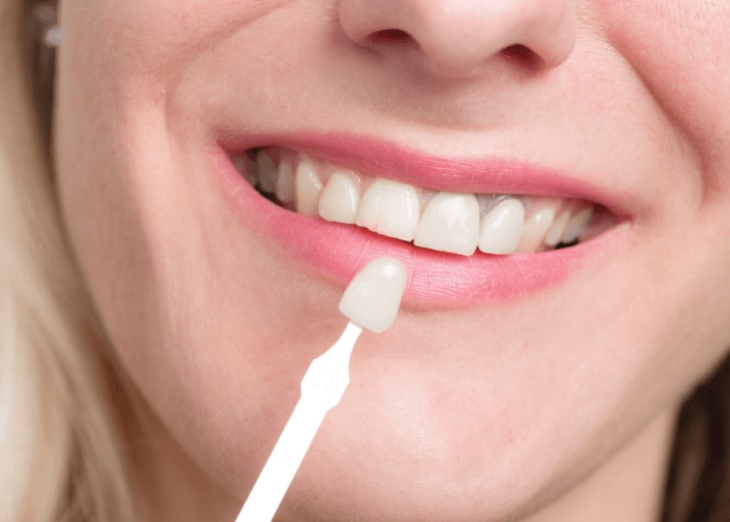 As porcelain veneer is an indirect treatment, meaning the veneer is made outside of the patient's mouth. The treatment requires 2 visits within 1-2 week apart for the permanent veneers to be cemented on. During that time temporary veneers will be issued for aesthetic purposes and it is designed to flick off very easily. It is recommended to cut your food into small bite sizes and eat with your back molars instead of biting.
Cost of Porcelain Veneers in Sydney
Most dental practices around Sydney offer porcelain veneers at an average of $2,000 which is quite expensive.
Porcelain Veneers Cost at Parramatta Dentistry
At Parramatta Dentistry, no matter which four ceramic veneer material is suitable for you, the price for our porcelain veneer is $1,800 per tooth. If you wish to get a smile makeover of getting 6 or more porcelain veneers, we do have a package of $1,400 per tooth. Our dental veneers cost Parramatta is quite affordable as compared to other dental practices and done by our expert as well. During the consultation at Parramatta Dentistry the dentist will be able to check your smile line to confirm how many porcelain veneer teeth you need for the smile makeover.
Caring for Porcelain Veneer
To ensure your porcelain veneers longevity and to extend the life of your veneers, it is important to maintain good oral hygiene. Brushing and flossing twice a day with a 6 monthly routine check up is the main course of action to provide a good foundation for your porcelain veneers Parramatta. At Parramatta Dentistry we offer a 5 years conditional warranty for our porcelain veneers cases. To ensure that the warranty is valid our patients must receive 2 routine examinations and clean per year at our practices. This not only allows us to remove plaque build up but allows our clinician to pick up on any abnormalities or early signs of decay. If you have private health insurance you may get a no gap routine check up and clean with our oral health therapist. This means no out of pocket fee for you while providing the best care for your teeth.