What is a Dental Filling?
Dental filling or a dental restoration is when a part of a tooth is being replaced with a dental material. This usual happens when part of the tooth has a dental cavity or decay. Other times it could be dental trauma such as a chip, crack or broken tooth. 
Dental Materials That Parramatta Dentistry Offers
There are a few different types of dental materials to replace part of the tooth and depending on the situation the dentist would make a sound judgement on the decision. At Parramatta Dentistry the dental materials that are available for fillings are composite, amalgam, gold, glass ionomer and ceramic. To see what type of dental fillings you will need, please give our Parramatta surgery at call on 8090 1109.
Dental Material Types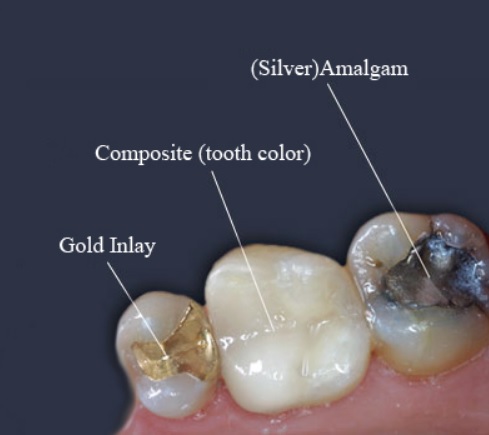 For most cases, when a patient requires a tooth filling is because of a dental decay or a cavity. In such instances the dentist will remove all the decay from the tooth and clean the site before placing a filling. The dental materials that will be used in this situation are composite or amalgam material. However due to the metal appearance of amalgam filling, composite fillings have been the preferred choice for patients and dentists.
For deciduous teeth or baby teeth where children struggle to stay seated in the dental chair for too long. Dentists may decide to replace the filling with glass ionomer material. The benefit of glass ionomer material is that the site does not require to be dry and has the added benefit of fluoride that can prevent decay from recurring.
As for larger restorative sites, where a part of the tooth structure has broken off. A dental crown, inlay or onlay is required to restore the tooth and help it function normally. The use of ceramic or gold material is used to replace the missing part of the tooth and also assist in protecting the remaining tooth structure. Depending on the case and the situation the dentist will discuss and decide which material is most suitable for the tooth.
Tooth Filling Cost in Sydney
In Sydney, the tooth filling price starts around $300 depending on the size of the area where filling will be in place and the material to be used.
How Much is a Tooth Filling at Parramatta Dentistry?
The dental filling cost is dependent on the size of the restoration. The price starts at $150 and increases with the number of tooth surfaces it requires. There are two types of dental fillings direct and in-direct. Direct fillings are composite or amalgam fillings that can be done inside the patient's mouth. 
As for in-direct fillings are crown, inlays and onlays that need to be manufactured in a dental laboratory and externally from the patient's mouth. In-direct fillings are more expensive where inlays and onlays starts at $1,200 and crowns starts at $1,650. To receive a proper quote for a dental filling Parramatta, please book an appointment at Parramatta Dentistry. 
If you have private health insurance with dental extras, please remember to bring your health fund card with you. We have a HICAP machine available on site which enables us to help you claim on the spot. Otherwise we are able to print out your invoice, so you can process the claim online or over the phone yourself.