A dental implant or bridge are two options that your dentist can give you as a treatment to replace your missing tooth. What's the difference between a dental implant and a bridge?
You have to know the difference between the two so you can know which the best treatment is. An implant is a good option if you have lost a tooth wherein a titanium post is surgically implanted into your jaw bone which will then fuse into your jawbone and act as a root.
On the other hand, a dental bridge is used to fill gaps on missing teeth where it is supported by the natural teeth.
We can differentiate bridge vs. implant with its pros and cons.
A dental implant in Parramatta has a little maintenance that could last a lifetime if maintained properly. It is more natural looking as they are stronger and stable which functions like a natural tooth. It also stands on its own and doesn't need support from other teeth and does not put strain to other surrounding teeth.
However, there's a con as well as this procedure needs to be done via surgery which means it can't be done in a single visit. Since this is a surgical procedure, the cost is higher than the other treatments.
On the other hand, a dental bridge has its own pros and cons. One of the ultimate pro is that it is a simple procedure that doesn't have to be done surgically and less painful.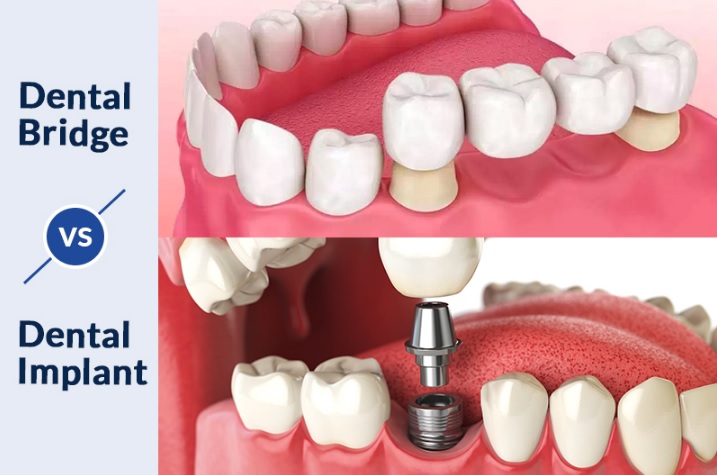 It also heals quickly compared to implant that could last for several months. Bridges are also affordable and cheaper than the implant in Parramatta.
The not so good side about this is that it is less pleasing as it is unnatural looking unlike the implant. It is also replaceable and has to be changed every 5-7 years which could damage the surrounding natural teeth making it necessary to remove some of it.
So which is better bridge or implant? All these information about the difference between tooth implant vs bridge has to be laid out to you by the dentist and whatever works best for you will depend on your situation.